Counterfeit Watches

Brand-name watches like Rolex, Patek Philippe, Omega and others are constant victims of fakery. It is estimated that the total number of faux Rolex watches produced every year is 10 times what Rolex produces in its own facilities.
Watches are the most common counterfeit merchandise seized by U.S. customs officials. In a single 6-month sting in Los Angeles, customs agents confiscated almost 40,000 watches. They also took in thousands of watch parts and the presses to assemble them. The parts are manufactured abroad and brought here for assembly and sale.
International watch trade shows attract counterfeiters who take photos of new watch models. As a result, a bogus version of a new or prototype watch is sometimes launched in advance of the authentic timepiece.
Some counterfeit watches are cheap imitations of flimsy construction, with no attempt to even resemble the real thing. Others are so well done that only an expert can detect them. They may be reconstituted watches, made of parts cannibalized from several of the brand-name watches that were no longer working. Or they may have some genuine parts, along with poor-quality substitute parts and forged logos. Counterfeit manufacturer's boxes and certificates of authenticity complete the brand-name aura.
How to tell a watch is counterfeit
Some counterfeits are so well done, even a jeweler can't tell they're fake. It takes an expert watchmaker, or even an authorized dealer in that brand, to tell the real thing from a knockoff.
One watchmaker reported cataloging a large collection for an estate. These watches, he said, were high-value collector's pieces, the kind most people can only dream of owning. He opened each watch for examination, to be sure it was what it was supposed to be. All of them were authentic - except this one.
This Patek Philippe looked great. It bore the appropriate logos and signature styling.
But its light weight made the watchmaker suspicious. Then he noticed some quality issues that suggested deception. Upon opening the watch, he found that the movement was not by Patek - and that everything else with the Patek Philippe name on it was also counterfeit. The skeleton case back had been specially made to conceal areas that would indicate fake parts.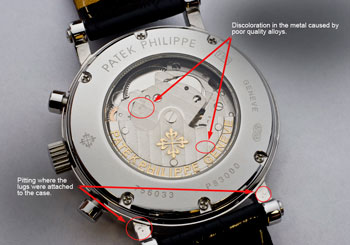 A genuine Patek Philippe of this kind costs $100,000. A replica like this one sells online for $269.
Where fakes are sold
It's a good guess that the vast majority of fakes wind up on the Internet. Some are sold openly on websites that advertise counterfeits or replicas of name brands. A site may even show pictures of the authentic watches while pitching its own replicas at a fraction of the price.
EBay is awash with counterfeit brand-name merchandise. Watches may be advertised as "previously owned," to account for the low price, but that doesn't mean they are authentic. A watchmaker or jeweler who deals in fine watches can spot many discrepancies in the product description that suggest counterfeit goods.
A knowledgeable jeweler gave us the following analysis of one watch offered on eBay. Please enlarge each picture to see the data and the expert's comments.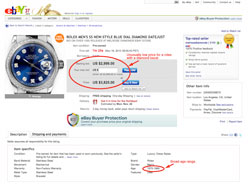 Keep in mind that the problems cited here are based on only the online description; an examination of the actual watch would most likely reveal bogus parts and erroneous descriptions.
Who's being fooled?
Most online buyers do not have the expertise to recognize telltale signs of fakery. Maybe they think they've gotten the bargain of the century, paying much less than the item is "really worth." Maybe they just want to wear the name and don't mind if some (or all) crucial parts have been imitated. The thriving business in brand-name replicas attests to this market.
Lawsuits against sellers of fakes have sometimes been lost because the defense argues: It's not deception because how could any buyer believe he was getting a genuine Rolex for $100? And yet, some customers have brought their fake Rolexes to authorized Rolex dealers for service-and been turned away.
Those customers were fooled, but the Rolex dealers weren't, and the insurer doesn't have to be.
FOR AGENTS & UNDERWRITERS
For expensive name-brand watches, be sure to keep on file all documents that testify to the watch's value and authenticity, including the sales receipt and any guarantees and warrantees from the manufacturer.
Any watch from an unauthorized source should be thoroughly inspected to be sure that all its parts are genuine, including the movement. This requires opening the watch case and examining the entire watch in detail. The inspection should be done by an authorized dealer in that brand.
A watch containing any non-Rolex parts, for example, is not considered an authentic Rolex watch by Rolex. Any substitute parts or after-market changes void the Rolex warrantee, and the watch will not be serviced by authorized dealers.
You don't want to have to replace a cheap knockoff with a genuine item down the line.
FOR ADJUSTERS
Check for manufacturer warrantees and other evidence of authenticity. Some manufacturers sell only through authorized dealers. Merchandise bought online (or from other unauthorized sources) may be second-hand, or may be altered with cheaper parts, or may be a complete knockoff wearing a prestigious logo.
For damaged brand-name watches, be sure to have the piece examined by an authorized dealer of that brand to ensure all parts are authentic.
©2000-2018, JCRS Inland Marine Solutions, Inc. All Rights Reserved. www.jcrs.com
Subscribe to Jewelry Insurance Issues