Sapphire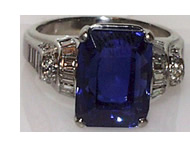 Pure rich cornflower blue is the color usually associated with sapphire. Even its name comes from the Latin word meaning blue. However, the term sapphire actually refers to all gem corundums that are not one of the four hues of red (which are rubies.)
Sapphires also come in a rainbow of colors, including pinks, oranges, rich purple, and magnolia green. Golden sapphire resembles topaz, but its high polish makes it fizz with life. Yellow sapphires with good color are popular.

In the corundum Rainbow Bracelet, the red stones are rubies.
All the others are sapphire

The typical size range for sapphires is .01 to 5.00 carets, though faceted stones of several hundred carats occur. Sapphire is quite tough and resistant to breakage.
Sapphire Treatments
Sapphires are usually heated to produce or intensify color, to make color more uniform, or to lighten stones. The treatment is perfectly stable and imposes no special care requirements.
If the sapphire is not heat treated, that should be stated in your sales receipt and appraisal, as the value of an untreated stone is greater than that of a heated stone having the same appearance.
Treatments other than heating are becoming more widespread and should be specifically disclosed.
Treatments That Should Be Disclosed
Diffusion The stone is subjected to chemicals and high temperatures to produce a shallow subsurface layer of color. Diffusion may also create inclusions that produce asterism, an attractive star-like effect. The treatment's stability is good as long as the stone is not repolished or recut.
Irradiation Yellow stones are occasionally irradiated to provide temporary intense yellow or orange color. The effect fades quickly in light or heat.
Oiling An increasing number of sapphires treated with oil are appearing in the marketplace. Oiling the stone is a way to fill surface fractures. This treatment enables gem dealers to sell a larger stone (at a higher price) because fractures that might otherwise have to be cut away are filled with oil. Oil fillers are not stable and will evaporate over time, leaving a less attractive stone with readily apparent fractures.
Shopping Considerations and Caveats
Be suspicious of intense yellow or orange sapphires. Ask whether they have been irradiated. This treatment will not last.
Ask whether the stone has been oiled. This treatment is coming into use and is often not disclosed by the gem supplier. Unless the jewelry retailer is a trained gemologist who has inspected the stone in a gem lab, he may not be aware that it has been oil treated.
Insist that all treatments be stated on the sales receipt and the appraisal.
Today it is quite unusual to find some types of gems untreated--an untreated sapphire from Ceylon or Kashmir, for example. If a stone is completely untreated, then that should also appear on the appraisal, as such a stone is worth more than a treated stone of the same appearance.
Treated beryl (maxixe) looks similar to dark blue sapphire and is sometimes passed off as sapphire. Get verification in writing that what you are buying is sapphire.
Verify that the stone is natural rather than synthetic.
Certificate: read about colored gem certificates and see a sample of a sapphire certificate