Colored Gemstones - Color
Considering the variety and beauty of colored gems, it's probably not surprising that color accounts for 50% of their value. Yet until the early 20th century, there was no generally accepted way of describing colors precisely. Then Albert H. Munsell, an American painter and art instructor, brought order to the world of color by identifying three basic qualities or dimensions of color: hue, tone (value) and saturation (chroma). Any color can be specified by naming these three qualities.
These qualities are the basis of the Colored Stone Grading System, a standard developed by the Gemological Institute of America (GIA).

Hue means the specific spectral location of a given sensation of color. The Colored Stone Grading System specifies 31 hues, such as violet, violetish blue, slightly violetish blue, blue, etc.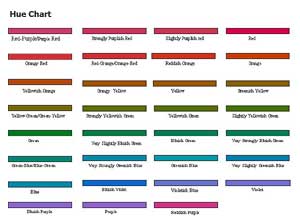 Hue Chart
(Click chart for larger image)
Saturation is the degree to which a color departs from a neutral (gray) sensation. It can be thought of as the relative purity of hue.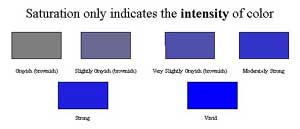 Saturation Chart
(Click chart for larger image)
Tone refers to the lightness or darkness of a color.

Tone Chart
(Click chart for larger image)
Color Grading
Grading colored stones is a subtle skill. By comparison, grading of diamonds is fairly straightforward: the less color, the better. A trained appraiser compares any given diamond to a standard set of grading stones and assigns a letter grade (according to a scale developed by the GIA).
For grading colored stones, the appraiser must use a system of plastic gems or color acetate overlays. It's important that the appraiser be familiar with colored gems, experienced in handling them so as to be able to recognize and describe their subtleties of color and phenomena. A color "grade" is not simply a place on a scale of value but a set of precise descriptive terms.
For example, an emerald's color might be described as "very slightly bluish Green" hue, "Medium Light" tone, and "Very Slightly Grayish" saturation. Gemological terms for color do not depend on the poetic skills or hype of the appraiser, but have specific, agreed-upon meanings.
Buyer's Tip
Since diamond jewelry is what most buyers want, many jewelers are not really knowledgeable about colored stones. If you are buying quality colored-gem jewelry, or having such a piece appraised, be sure to deal with a trained gemologist who has expertise in grading colored stones. A retailer who regularly buys and sells colored stones knows where to get the best quality gems for the best prices, which is also to your benefit.
A good approach is to choose the retailer who carries a fair amount of jewelry with the stone you are interested in, not just a few examples. If you buy from a CIA™ jeweler, you know that he's had at least the basic GIA classes on colored stones and that he has gem lab equipment with which to examine the stones.

Colored Gemstone Certificates
Emerald
Ruby
Sapphire
Other colored gemstones