Emerald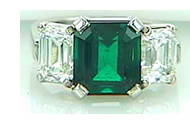 A large emerald without flaw is so rare that, carat for carat, it is apt to be worth considerably more than a fine diamond. Emeralds typically range from .04 to 4 carats, although faceted stones of 100 carats and more are known. Their color ranges from bluish green to green. The toughness rating for emerald is Fair to Poor. This means damage can result from impact, as from a fall.
Emerald Treatments
Oiling is an enhancement routinely done to improve the appearance of emeralds. A colorless oil penetrates into voids and fissures that reach the surface. It does not harm the gem, but temperature changes, chemicals, and ultrasound used in cleaning may affect the stability of the treatment.
Enhancements other than oiling should be disclosed, both verbally and on the sales receipt and appraisal.
Treatments that Should Be Disclosed
Dyed with Colored Oil or Dye
This enhancement is done occasionally. Temperature changes, chemicals, and ultrasound may harm the treatment.
Stabilized with Colorless Bonding Agent
This treatment improves the durability and appearance of the emerald. Avoid temperature changes and chemicals.
Fracture Filling
Since emeralds are apt to have internal cracks or fractures, they are often subjected to fracture filling, which means a fracture in the stone is injected with a foreign substance to make the flaw less visible. The treatment is inexpensive and it can immensely improve the gem's appearance (to the unaided eye). Be aware that this treatment only conceals a weakness that is still present in the stone, and that the treatment may not be permanent. Also be aware that a fracture-filled emerald is not worth as much as an untreated emerald of similar appearance.

Emerald before and after Fracture Filling
Shopping Considerations and Caveats
Since fracture filling of emeralds is becoming so common, ask specifically about this treatment. Fractures that are hidden by filling can become apparent again should the treatment break down. If you choose to take a chance with a filled stone, at least be sure you are not paying for a high-quality gem.
Emeralds have a low toughness rating, which means the stones can crack under pressure from a poorly designed mounting. Damage can also result from temperature changes or from improper cleaning by boiling, steam, chemicals or ultrasound.
Verify that the emerald is natural and not laboratory grown. Synthetic gems are chemically identical to their natural counterparts, but they are inexpensive to produce. Synthetic emeralds typically sell for 5 to 10% of the price of a natural gem. If you are paying for a natural gem, be sure that is what you are getting.