Jeweler's Block Inventory System
A useful tool for accurate jewelry inventory
record keeping
JCRS has developed a concise, easy-to-use record keeping system that addresses the typical problems associated with Jewelers Block inventory and record keeping requirements. Called the Jeweler's Inventory Record Keeping Card, this manual, paper-based record keeping card is also compatible with most computer systems.
Detailed information about the Jeweler's Inventory Record Keeping Card can be found in the ACORD Forms Instruction Guide for Form 154.
Benefit: The benefit of using this inventory system is found in the simple but systematic methodology for recording relevant details about jewelry items that comprise the jeweler's inventory. These details, while of obvious interest to jewelers, are also helpful in providing useful information that is important for properly insuring jewelry. That's because purchasers of fine jewelry typically need accurate appraisals or other authenticating data when purchasing jewelry insurance. Such information is included in the Jeweler's Inventory Record Keeping Card.
Description: This card, which comes four to a sheet with clean-edge perforation for easy separation, fits any standard 3 x 5 inch card file. The card is designated ACORD Form 154 and supports JCRS' development effort of the ACORD Jewelry Standards that are used by the insurance industry for accurately insuring fine jewelry.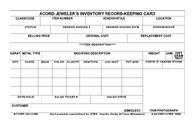 Click to enlarge
The back of the card tracks inventory location and item status (layaway, consignment, etc.), and it allows cost analysis of the complete piece and of its component parts.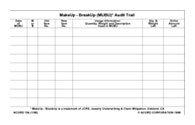 Click to enlarge
For more information about the ACORD Form 154, Jeweler's Inventory Record Keeping Card, contact JCRS.