Gold
Gold in its pure state is seldom used for jewelry as it is too soft. It is combined with other metals (alloys) to produce a more durable metal. The presence of other metals in gold produces the various colors of gold. Copper, for example, adds a reddish tint. Nickel and copper with zinc turn gold white.
Karatage
Pure gold is stated as 24 karat. Each karat represents 1/24 of pure gold. The gold content of an 18K jewelry item is therefore 18/24 or 75% pure gold. According to the European system, 18K gold is marked 750, 14K gold is marked 585, 10K gold is marked 420.
10K gold is the lowest percentage allowed to be marked and sold as Karat Gold Jewelry in the United States. Underkarating (stamping a karatage as higher than the item actually contains) does occur, but most of it goes undetected because it is not possible to analyze gold jewelry for its karatage without damaging the jewelry in the process.
Costume Jewelry
The following terms are used to describe costume jewelry. These items, too, should be stamped with trademark and karatage.
Gold-filled
In this process, a layer of gold is bonded onto a non-precious (base) metal. This bonding is done by soldering, brazing or welding. For a piece to be called gold filled, the weight of the gold must be at least 1/20 of the total weight of the piece, and the quality must be at least 10K.
Rolled Gold Plate
This is similar to gold-filled, but the weight of the gold is less than 1/20 of the metal used.
Gold Vermeil
Gold vermeil is a combination of gold and silver, in which a layer of 10-24K gold is bonded or electroplated over a base of sterling silver.
Gold Electroplate or Gold Plate
Articles plated electrolytically with gold or an alloy of gold are called gold electroplate. A stamp reading "1/40 10K Gold Plated" means that the gold coating makes up 1/40 of the article's weight, and that 10 karat gold is used.
Shopping Considerations and Caveats
All gold jewelry you buy should be stamped with the karatage. If a karatage stamp does not appear, you have no assurance of the gold's quality.
The manufacturer's trademark must appear on every piece of jewelry stamped with a quality mark. If it does not appear, you might reasonably assume that the quality mark is not true. The trademark is usually a symbol, rather than a name or even a word (since that would take up too much space and deface the jewelry). Be sure to ask the jeweler who owns the trademark.
The weight — the amount of gold a piece contains — is important when you are comparing prices. If the retailer doesn't know the weight of a chain or bracelet, for example, or if he says he doesn't have a scale, do not buy there.
The finest gold jewelry is 18 karat. Jewelry with a higher percentage of gold than that is too soft to be durable. Don't be taken in by offers of jewelry with a higher karatage than 18K.
Gold Prices
The following chart (from kitco.com) illustrates the volatility of gold prices.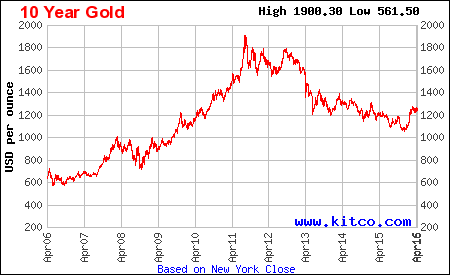 You can explore www.kitco.com for more data on the price fluctuations of gold and other metals.
While the cost of materials greatly affects the price of jewelry, workmanship is also a factor.
The bottom line is that you should buy a piece of jewelry because you love it, not as an investment!