Cleaning Jewelry
You already have what you need to clean your jewelry: a worn-out toothbrush and some dishwashing detergent. Dish detergent is designed to cut through grease and grime and to rinse off easily, which are exactly the properties needed to clean jewelry. It will not harm gems or metals.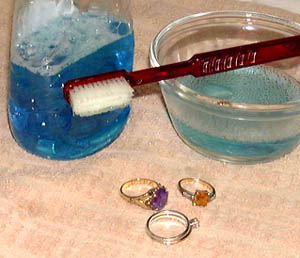 Caution!
Do NOT use toothpaste, as it is an abrasive.
Do NOT use an ultrasonic cleaning device. Ultrasonic waves can literally break some gemstones or can loosen stones in their settings so they will fall out later.