Moissanite: A Diamond Simulant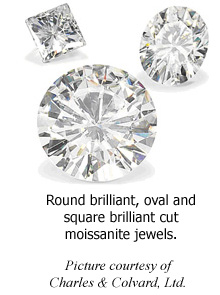 A simulant is an imitation gem, made of inexpensive materials, and moissanite is a popular diamond simulant. To the unaided eye moissanite looks like diamond, but a trained gemologist using a 10-power microscope could certainly tell the difference.
A TV reporter posed as a customer wishing to get an appraisal for her moissanite ring. She went to a number of stores in New York City's Diamond District. A hidden camera recorded several jewelers viewing the stone through a loupe and giving price estimates for a real diamond ring.*
Professionally trained jewelers can easily distinguish moissanite from real diamond. Charles and Colvard, the company that sells the simulant, has even developed a detection that jewelers can use.
Untrained retailers who cannot recognize imitation gems would pass them on to customers with every assurance that they are real gems. The story points out the importance of dealing with a jeweler who has the training and equipment to verify what he is buying and selling.

*The report appeared on the 11 pm edition of New York's "Channel 7 Eyewitness News," February 4, 2000.